Best blogging site on the Internet 2018, 2019 and 2020
Purpose:  These blogs are written with the intention of providing valuable insights into my career, as well as an intelligent conversation piece on a myriad of topics (Lean + Six Sigma | Operations Excellence | Resume writing | Linkedin expertise | Career | Disruptive technology | Health & Wellness | High Performance | Project Management | Education | Work + Life balance | Branding | Strategy | Social Media: Instagram).  I hope that they can inspire others to find their purpose, dream bigger and live more freely.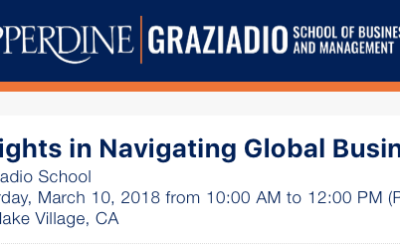 Join us in welcoming Pepperdine's 40 over 40 Alumni Campaign Honoree, Geoff Koboldt, to the Westlake Village campus where he will be presenting on Global Business, sharing his professional journey, lessons learned, and practical tips for success in this realm.
read more