44% salary increase for this VP!
– 🎤 drop
I wrote a fresh new resume and optimized this clients #linkedin profile at the end of June.
He was a VP of Education & Training with expertise in Strategic Leadership, Employee Management, and Customer Success.
TOP 10 SKILLS:
Professional Services Management | P&L Accountability | Customer Satisfaction | SaaS | Recruitment & Retention | Employee Engagement | Internal Collaboration | Strategic Leadership | Mergers & Acquisitions | Salesforce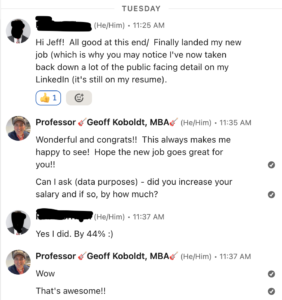 𝟯𝟱% 𝗯𝗮𝘀𝗲 𝘀𝗮𝗹𝗮𝗿𝘆 𝗶𝗻𝗰𝗿𝗲𝗮𝘀𝗲 𝗮𝗻𝗱 𝟲𝟬% 𝗼𝘃𝗲𝗿𝗮𝗹𝗹 𝗰𝗼𝗺𝗽𝗲𝗻𝘀𝗮𝘁𝗶𝗼𝗻 𝗶𝗻𝗰𝗿𝗲𝗮𝘀𝗲!
I love morning emails like this and this is WHY I do what I do (with my side hustle)… to enrich and elevate people's livelihoods.
Ryan has been in the banking industry (17 years) with core expertise in customer service, strategic leadership, and business execution.
His skills included:
Change Management | Business Execution | Risk Control | Strategy | High-Performance Teams | Operational Excellence | Cross-Functional Team Collaboration | Influence | Process Improvement | Adaptable | Agile | Project Management |Customer Experience | Financial Accountability | Conflict Resolution | Partnership Building | Emotional Intelligence | Banking | Microsoft Office
I created both the #resume and optimized his LinkedIn profile, a few months ago.