2022 has been a wonderful year on one side and an emotionally draining one on the other side.  Nonetheless, I am grateful for health although the lingering chest tightness and coughing from covid months later is not fun. I am grateful to work for a great corporate company who gives me the ability to work from home and integrate my work and life; I cherish the time spent with Liam.  I am grateful for my friends and family as it's nice to be loved and appreciated.  I am grateful to experience being a husband and father with all its challenges.  I'm simply grateful for life with GOD in my heart!
MY FAMILY
Cathy is doing good as she went back for a 2nd year of teaching, which is an ongoing struggle of dealing with the most challenging students and all the while the joy of making a difference for the ones who do care.  She has a heart of gold and is a light of hope for many of these students.  I am grateful for her; she's an incredible mother and wife.  We recently accomplished a major goal we had set for ourselves and I'm super proud to say we paid off our house!!  Next, is another investment!
Giana is contracted with Johnson & Johnson and is loving her new training role.  We're proud of her career focus!  She's 24 and debt free from college.  We see her about 1x/week, which is always fun for us and super fun for Liam.
Liam has been doing fantastic in school earning A's.  He's been active on Wednesdays with an after-school athlete program and swim lessons on Thursdays.  He plays basketball in the backyard every day and loves watching the Golden State Warriors, and a few other NBA teams.  At 4', he thinks he's 7' in his mind.  He can recite nearly every major basketball player's team, height, wingspan, position, etc.  We'll be taking him to his first NBA game in February (Golden State vs. LA Clippers) near the court.  I'm beyond grateful to have spent more time with him this year… and cannot wait to see what this kid becomes one day.  I love him so much!
Check out Liam's shoutout from LA Lakers Magic Johnson (also a MSU Spartan).
FAMILY FUN
We were busy this year, living life as fully as possible.  I made it a priority to spend more quality time with my family although I also worked a lot.  Here's a sampling of some of the fun things we did…
Big Bear
We visited Big Bear Lake in July for my birthday, which is something we did a few years ago as well.  We rented a pontoon and drove around the lake, which was fun as it took me back to my childhood in Michigan up at Higgins Lake with my grandparents.  We also hiked an incredible new trail (Castle Rock) that had me hiking deep into the forest, which gave me lots of peace.  There's something very special about Big Bear as it reminds me a lot of growing up in Michigan, surrounded by trees and nature.
Birthday Celebrations!!!
I always look at every birthday with appreciation and gratitude for life itself… another year older…another year wiser.  I'm grateful to be alive!  Our wonderful friends and neighbors Carlos and Liza came over, as well as my buddy Wyatt, and some family members to celebrate with me.
We celebrated Cathy's birthday at an awesome Peruvian Restaurant Bodegon 69 in Pasadena; food was delicious and ambience was great.  She is incredibly loved to say the least!  Her family and friends always show up and make her feel special.
We celebrated Liams birthday at a local playhouse with a basketball court, face painting, jumpers, slides, and more.  He had a great time celebrating with some of his friends from school and of course his family; especially his cousins.
LA Dodgers vs. Detroit Tigers baseball game
Growing up in Michigan, I always have to come watch the Tigers play!  We had great seats near first base and after the game I got to take Liam out on the field and run around the bases.  This nostalgia takes me back to my time playing t-ball as a kid and having my dad as my coach.
LegoLand is always a blast!  I think this was Liam's 5th time visiting over the years.  If you get a chance, stay at the Lego Hotel or the castle hotel next door – both are a great experience.   Liam loves building LEGOS and we have multiple displays (20-25 different sets) in our house showing his work!
Universal Studios – Liam went 4x this year!  He especially loves going with his girlfriend Charlize.
Visited the Museum of Music in Carlsbad… lots of great guitars, amps, drums to play with.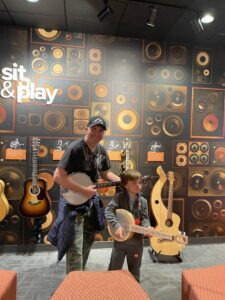 California Adventure/Disney
Attended a Pepperdine University alumni event with the LA Kings with my friend Bryan and President Jim Gash.
Renaissance Festival
I broke out my kilt that Cathy got me from Scotland after we got married.
Great time at the Pumpkin Patch in Irvine with my great friend Wyatt and his family.  They had an ABBA tribute band rocking out.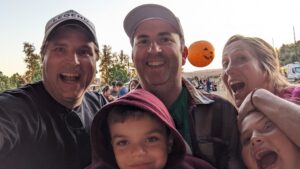 Detroit vs. LA Angels with friends Kevin & Jody (from St. Charles), and my buddy Johnny and his son Michael.  We went to 2 games vs. Detroit thanks to our friends at the Big Ten Club who got us great seats.
Hiking in Idyllwild – we always enjoy the fresh mountain air.  It's about a 90 minute drive for us, but we always have fun.  We even met the Mayor – the dog!
Michigan State University
Had a great time at the Orange County Spartans golf event where I got to hang out with Coach Mel Tucker.  Also spent a lot of time with the Riverside County Spartans for football game watch parties.  I am grateful to have attended MSU.  Looking forward to basketball now; go IZZO!
Mom and sister Kelley visited
We rented a cute 1950's bungalow house near the beach in the Belmont Shores area of Long Beach for the week.  This place was so convenient as we were within walking distance of great restaurants and shops, and of course the beach!  Highly recommend!!!  We had such a great time playing cards, having family dinners, eating delicious food at local restaurants, going for a gondola ride in the Naples canals (homes here range from $10-$30M), and so much more. Always brings me joy to spend time with my mom and sister.
Utah / Salt Lake City / Sundance Resort / Moab
CONCERTS
As a family, we saw a lot of great concerts this year, which filled my soul.  For me personally, I also got to go and see The Who, Steve Vai, Pearl Jam, Cruel World Fest (Morrissey, Blondie, Bauhaus, Devo +more), Primus, Australian Pink Floyd, and Henry Rollins spoken word.
Paul McCartney
One day Liam will fully understand the significance of his first concert being Sir Paul McCartney of the Beatles, one of the greatest songwriters to ever live.  He loved the song 'live and let die' with the explosions in the song and was looking forward to seeing it but he fell asleep around 10:10pm and missed it.  Nonetheless, he had a great time… we had a great time!  This was my 2nd time seeing Paul – first time being in 2005 at Honda Center in Anaheim.  Also, I was fortunate to fly a commercial flight in 2000 with Ringo Starr sitting 3 seats in front of me; met him and it was awesome!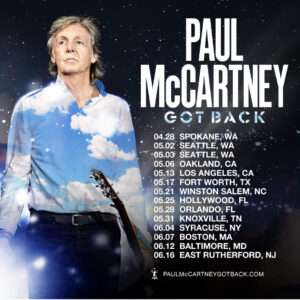 Def Leppard / Motley Crue / Poison / Joan Jett
This was an incredible show with floor seats at the massive Sofi Stadium in LA.  Def Leppard were awesome…just hit after hit!  Liam was rocking out playing air guitar, which had the crowd watching him more than the band.  I had such joy watching him engage with the music; he's always felt music at a young age.  I loved Poison back in middle school and never saw them, so it was great to finally see them and sing along to 'talk dirty to me' and 'every rose has its thorn'.  Joan Jett was another great that I had never saw before and Liam loves the song "I love rock n roll" so he was rocking out.  Motley Crue was one of my favorite childhood bands since I was 9 years old and I've been fortunate to see them a few times, as well as got to see them get their star on Hollywood Walk of Fame, and meet them.  Nonetheless, Vince Neils voice just isn't strong anymore and it makes it really hard for me to enjoy the songs.  It was great to see Mick Mars still rocking his guitar despite all the pain he's in, sadly.
Pink / St. Vincent at Ohana Fest in Dana Point
There is no doubt that PINK has one of the strongest voices in music.  She rocked!!  I was excited to see ST. Vincent who my old pal Jason Falkner was playing guitar with… and LOVED it; very unique mix/style.  Once again, Liam fell asleep early on us so we had to leave the show early to catch the bus back to where our car was parked.
Elton John
Knowing this was Elton's final tour, we had to go see the legend…and I'm so glad we did.  It exceeded all expectations with hit after hit being performed.  There is something incredibly special about the way that Elton organizes and sings his melodies with such emotion and conviction, despite him not writing the lyrics.  I am so grateful we witnessed his genius with floor seats at the iconic Dodger Stadium!
Hanging with punk rock legend Henry Rollins of Black Flag and Rollins band fame, after his spoken word show in Anaheim.  In this photo I am holding photos from 1998 and 2012 with Hank.
The WHO in Anaheim
Legends!!  The WHO did not disappoint. Roger Daltrey's voice is incredible!  Pete Townshend's guitar windmills are still as punk rock today as they were in the 70's.
CANCER SUCKS
In September, I lost a friend/colleague named John who bravely battled stage 4 cancer for over a year.  He was 38.  This experience challenged the core of my 'being' and fostered empathy at a whole new level as I remained close during his journey.  I was able to take him to a Golden State vs. LA Clippers game, which was a bucket list item for him.  I also helped raise $30K for his family – link.  It's made me think deeply about my own life and the limited time we all have together.  I'm still figuring it all out… but I've shifted my consciousness about what is truly important in this life and where I put my energy.  Some takeaways: Let things and people go.  Forgive.  Be present.  Nurture relationships that are reciprocal.  You won't live forever so do the things that bring you joy.  Travel more.  Be kind.  Don't sweat the small stuff.  Be the authentic person you were meant to be in this life.  Go bigger.  Go deeper.  Kill your ego.  Honor God.  Love deeply!