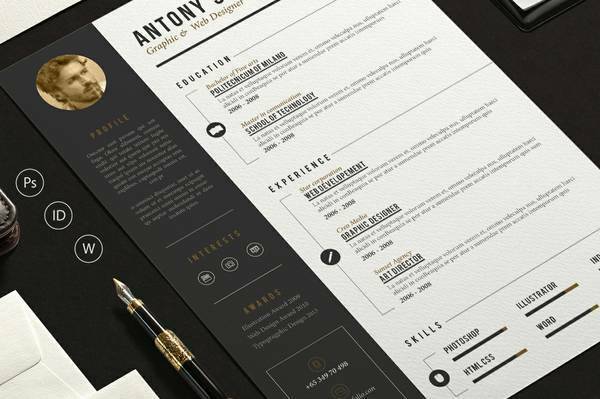 Do any of these apply to you?
X Wasting your time in the black hole of resume death wondering why nobody is calling you in for an interview. ✅ My Solution: Creating an applicant tracking system (ATS) compliant resume that is friendly with the AI robots and sells your 'unique' career value with a proven 98% success rate. 
X Wasting your money on buying resume writing books and trying to piece one together or worse paying a low-end resume writer and not getting any interviews. ✅ My solution: Building a resume with the WOW factor that sells you to the hiring managers and recruiters in that 6 to 10 second window.    
X Not knowing how to transfer your current skills and expertise to a new industry or new role?  Fresh college graduate and you don't have much experience yet?  Simply just don't know where to begin with the requirements of the modern resume?  ✅ My Solution: I'm your career wingman and will happily walk you through the process, step by step.
X Not getting an offer after multiple interviews. ✅ My solution:  I will teach you how to master the psychology of interviewing and give you confidence you never dreamed of to nail your dream job.
Are you ready to level up your career and enrich your livelihood?  I thrive on helping others!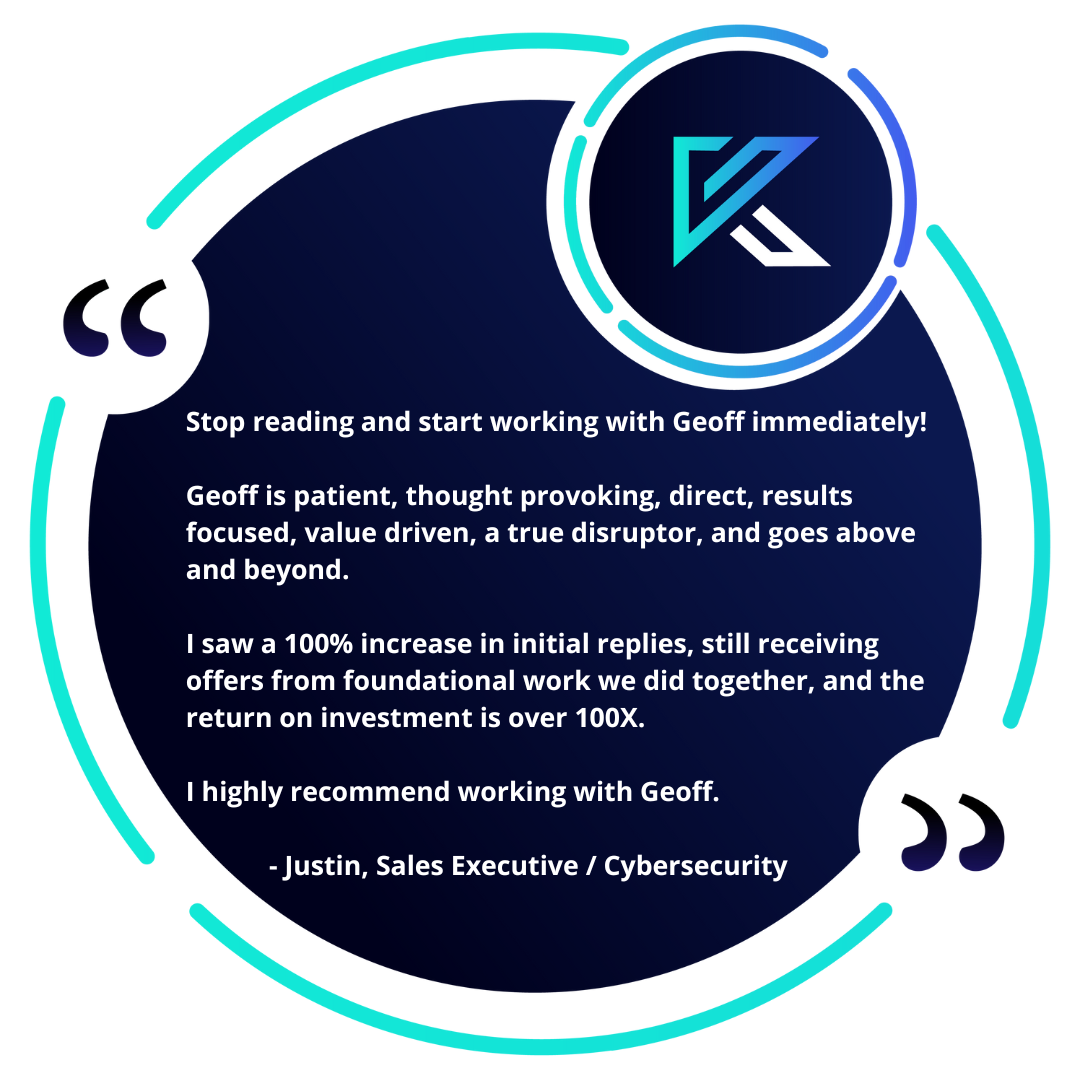 Set up 15 minute FREE chat
Recent clients list
Senior IT Solutions Analyst
V.P of Warehousing Operations
Senior Project Manager
Chief Data Scientist
Manager, Lean Systems
Consultant
Financial Professional / Mortgage
Branch Manager
Director of Strategic Sourcing
Supply Chain Management
OmniChannel Marketing
Enterprise Sales Engineer
Facility Management
Vice President of Sales and Sales Excellency
Alumni Communications and Engagement Manager
Digital Marketing
Senior Manager of Partner Marketing
First Vice President & Learning Development Manager
Head of Partner Marketing
Director of Design
Operations Manager
Senior Vice President, Healthcare Management
Global Head, Education & Training
Product Manager
Lending Operations Senior Manager
Director of Social Media –> Landed new job
Senior Manager / Acquisition Marketing
General Manager –> Landed new job with $15k salary increase
Business Analyst
Cybersecurity / Sales Leader – 20+ years –> Landed new job!
Director of IT, 20+ years experience –> Increased his salary $45k with new role.
Senior National Sales Manager, 10+ years experience –> Increased his salary $75k with new leadership role.
Technical Support Manager, 20+ years
Director of Strategy, 20+ years experience
Sales Engineer, 9 years experience –> Landed a new job and increased salary $25k.
SAP Solution Architect, BS Mechanical Engineering (India), 21 years experience
Senior Data Analyst, 9 years
Director of Sales, 12 years International experience
Sales / Business Development Manager, BS Electrical Engineering, 14 years experience
Director of Operations, MS Supply Chain, 18 years experience
Director of Operations, MBA, 20+ years experience
Chief Audit Executive, BS Management Information Systems, 17 years experience
Hospitality Director, 20+ years experience
Senior Data Scientist, PhD, 10+ years experience
Senior VP Digital Solutions, MBA, 12 years experience
International Business Development Manager, 20 years experience
Flagship Store Manager, MBA, 16 years experience
Business Owner / Environmental Director, 18 years experience
Director of Learning & Development, 19 years experience
Financial Analyst, Master's degree, 7 years experience
Sales Director, 20+ years experience
Director of Nursing, Master's degree, 20+ years experience
Financial Operations, 10+ years experience
Director of Technology, 20+ years experience
Industrial Management, Master's degree, 5+ years experience
Director for non profit, USC Master's degree, 20+ years experience
Manufacturing Quality Engineer, Master's degree, 6 years experience
Digital Marketing SEO, 4 years experience
Program Manager, 25 years experience
General Manager of e-commerce, 20+ years experience
Manager, Pepperdine Master's degree, 20 years+ experience
Senior Motion Graphic Designer, Master's degree, 7 years experience
Read about my career mistakes and the $ it cost me!
Acquiring my first major corporate job after graduating college at General Motors was quite easy.  1600 candidates to start, 6 weeks of ongoing interviewing and psychological tests to narrow the group down, 3 hours of final interviews in Detroit at GM's headquarters… and finally made the final cut of 6 hires.  The problem was that I took a job in California but getting paid Midwest wages ($49k starting base salary). Talk about leaving $ on the table… and who knew California was so expensive to live in?
Next, I failed 2 major interviews to get promoted within GM, one of them at my own plant.  Despite having earned an MBA, I thought I was well positioned for those promotions, but I quickly learned that politics plays a major role in corporate America, and frankly I just wasn't prepared for those interviews.  I didn't know how to 'sell' my value, despite having championed numerous lean projects saving GM $millions and helping to put our plant in the top five of 28 plants in N. America.
After leaving GM, I took a role with Milgard Manufacturing, where I was happy to increase my base salary over what I was making at GM, but I failed to negotiate a significantly higher salary.  I just didn't know the art of negotiation yet and unfortunately, that mistake cost me around $25k/year of lost income.
It wasn't until a few years later that I was at a major life's crossroads. I had exited from a company that I helped build for 6 years.  The challenge was how to sell oneself after having been an entrepreneur to now transitioning back to corporate America.
I bought a 400-page resume book and a 50-page executive resume book and started to pull various pieces from both of them to create my own resume.  It wasn't but a week later and I sent the resume off to be reviewed only to have them write back and say, "Where's the WOW factor?"
My ego was shattered, but I quickly pulled it together.  I started my quest to find out who the top resume writers were that helped write some of those resumes in the executive resume book.
I sent emails, made phone calls, etc. with prices ranging from $800-$3200 for them to write a resume and tweak my Linkedin profile.  Even $800 was outrageous to me, but I made the decision that there's a reason they are experts, so hire them.  Time is money and I was losing more than $800 every few days by not being gainfully employed.
I settled on a guy named Don who was a graduate of Stanford and also had an MBA from Wharton.  He said, "Geoff, I'm half of what these other people are charging but I'm just as good." I loved his old fashioned value of calling me and asking what my dream job would look like.
We started off with a 5-page questionnaire, which over the next 3 weeks, I turned into 26 pages of notes; dissecting every single thing about my career.  The type of work environments I thrived in.  The type of people I liked to work around.  The type of work I would love to be doing.  How to position what my MBA had done for me.  How to 'sell' my value based on my unique career story.  ETC.
It was then that I truly realized the power of knowing who I was, and what I was capable of.  I was super confident.  No more ego!  I had at least 10 companies a day reaching out to me.  It was magical and exactly how the job market should work.
That $800 investment eventually led me to my next role where I increased my salary by >$50k.
It was that foundation that allowed me to continuously raise my income level, perks package, additional vacation time, etc.  Once you know your value and know the formula, it gets much easier to navigate the job market.
And you know what?  That one woman who charged $3200 to write resumes, I ended up hiring to teach me about personal branding.
As I've grown in my career, I've interviewed over 1000 candidates for various leadership positions, which has gave me a wonderful perspective and great insights that I use to help others today.
Looking back, I only wish I had learned all of this early on in my career.  I easily lost out on what I estimate to be around $500k of lost income due to simply not educating myself.  Rookie mistake, right?
I truly hope you aren't making a similar mistake by sitting on the fence about hiring a professional resume writer.  It is highly probable that if you are out of a job right now, you are losing minimally $1k/week.  Or, if you have a job but aren't raising your value with negotiation that you are also losing $500/week.
Know your value.  Increase your value.  Invest in yourself.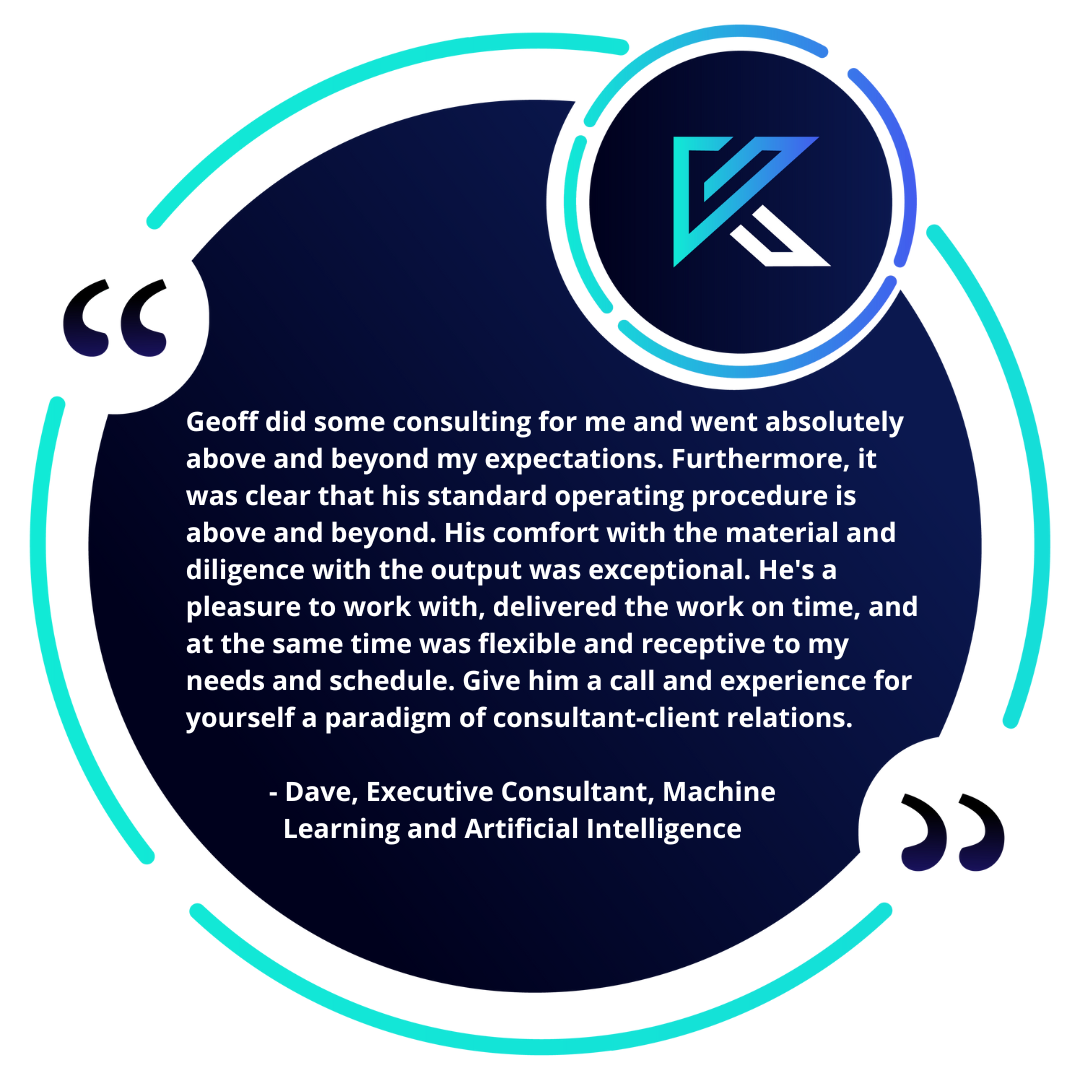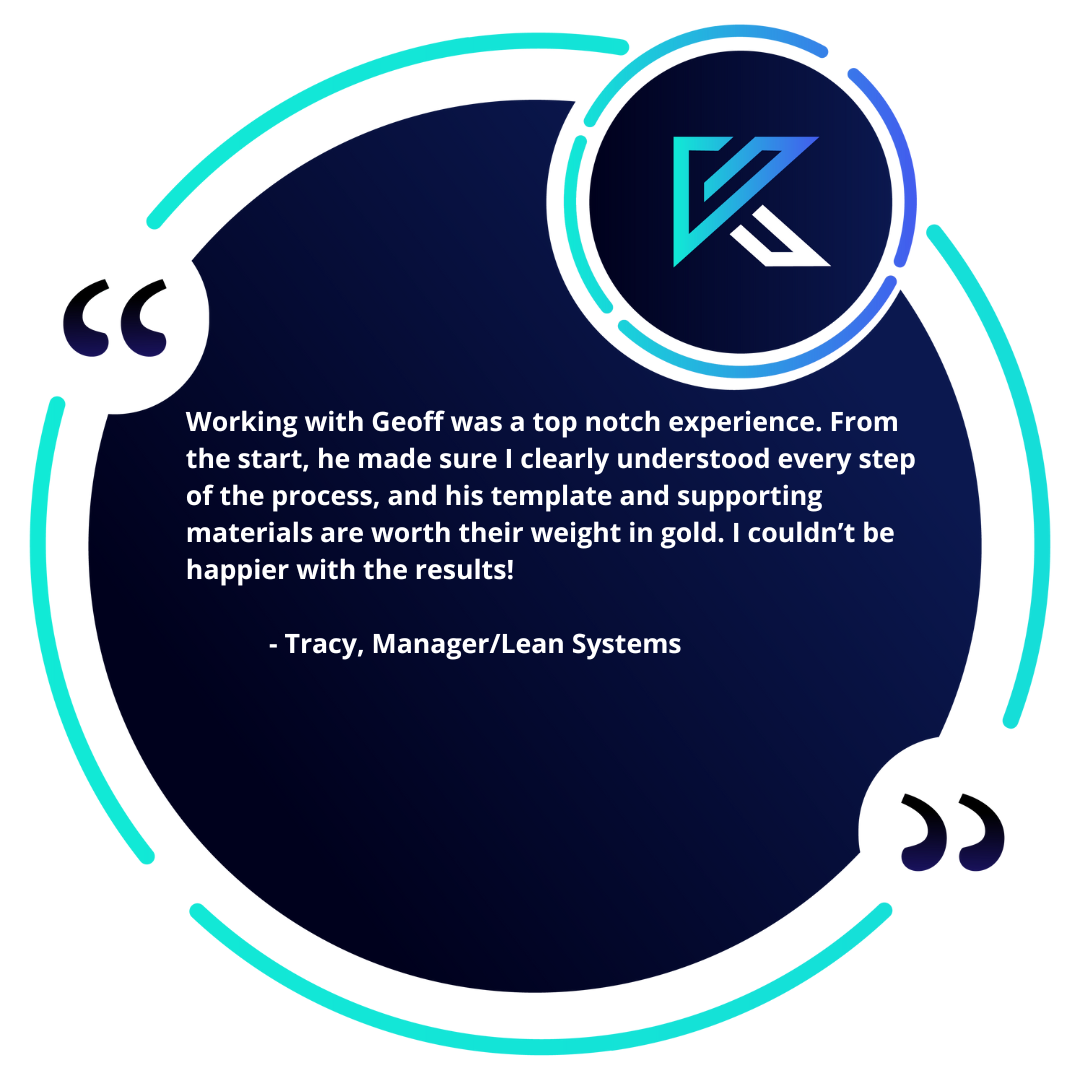 Resume writing process:
Understanding: It is imperative that I first understand you, the individual, so I can best represent you in your resume and LinkedIn profile.  I achieve this with my initial call and by having you fill out my 5-page career template. Who are you? Where do you want to go next?

Drilling: By using my career template, we will narrow your focus and drill down to matching your job experience results with exactly the requirements of the jobs you are applying for; ensuring we pass the applicant tracking system (ATS).  This is an iterative process, and I will challenge you until we've got at least 20 strong bullet points to put on the resume; 3-5 of which will go in your career highlights section at the top of the resume.

 

Capitalizing: I focus on your 3 core expertise and ensure that it is crystal clear and communicated thoroughly throughout the resume.  I ensure your resume tells the story on how you make a company money (top line revenue) or save money (bottom line, net income).  If a hiring manager has to 'fish' for what you are good at, they will give up after 10 seconds!

Articulating: My goal is to relentlessly articulate your value throughout the resume.  The key component of a modern resume is having a value proposition at the top of the page that pulls the reader in immediately and begs them wanting to know more about you; this is what I call the WOW factor.  My 1-2-3 combo of expertise + value proposition + career highlights is the hook that works every time; ensuring you pass the 6 second test!  Click here and learn more. 

Polishing: I will make the resume shine bright like a diamond with the right mix of white space that is balanced against optimized content that is more weighted towards your most recent job experience.  Truth is: nobody cares what you did 10 years ago.  All my resumes are ran through an AI/machine learning system that scores the resume on a myriad of variables and ensures maximum success.     
https://calendly.com/gkoboldt Set up 15 minutes for FREE and I'll demonstrate how I create resumes that have the WOW factor.
Ready to level up your career?  Connect and send me a direct message via LinkedIn.
Plans and Pricing
Resume Writing Services
$75 Resume critique
: I will review and critique your current resume for 30 minutes, providing you with valuable insights on what to change, why to change it, and how to change it.  

Simple process – send over your current resume as a word (.doc) version and I'll analyze it with notes, or we can do a ZOOM meeting.  
$199 Resume Rewrite Budget Deal (fresh college grads)
: Brand new crafted ATS-compliant resume, tailored to your targeted job(s).  I rewrite all sections that will go into the resume…  send it to you with my resume template… and you fill in/type up the resume…send it back to me and I will do the final audit.
$449 Resume Rewrite
: Brand new crafted ATS-compliant resume, tailored to your targeted job(s), using my unique career template… with a 98% success rate of landing interviews.  I dare you to compare pricing of other resume writers in my league of proven success and you will find they are charging $899-$1499. 
$50 DIY
:
I will sell you my best resume template. Do-it-yourself.  
Learn more about my resume writing process that WOW's the reader – click here.
LinkedIn Profile Optimization
$199
:
LinkedIn optimization that levels you up professionally so that you stand out and can easily be searched and found by hiring managers and recruiters. This is where all the power is with LinkedIn!  
Learn more about my LinkedIn Optimization process – click
here
.
Interviewing Prep via Zoom
$150/hour

:
 Give you the confidence you need to succeed and master the psychological aspect of interviewing.  
$400/ 4 hours 

:
Average time spent for most clients to become well versed is 4 sessions, but all depends on your current level and ability to learn.  Save $200.   
$750/ 8 hours 

:
 For those who want a deeper savings and more practice time
.  Save $450.   
My process:
Listening: Do your answers demonstrate how you drive results? Do you demonstrate how you drive profitability?
Interviewing: asking questions tailored to your role/industry
Shaping: your responses so they become memorized scripts using STAR/CAR format
Capitalizing: on strengths, spinning weaknesses
Articulating: value proposition, and driving home your top 3 expertise
Polishing: removing the um's and ah's, body language, eye contact
Confidence: you have to be ready to walk into the interview and OWN the room
Interviewing clients 
receive

 a .pdf of interview questions and STAR format questions.
Career Coaching
$150/hour

:  
Guided coaching to help you get unstuck and/or leveled up.
$1200

:  Get 10 hours of coaching (bonus: 2 free hours).
$5000
:  3 months, unlimited conversations, resume rewrite, LinkedIn 

optimization

, LinkedIn 90 day daily activity mapping, strategic planning (mindset, habits, health, spirituality, etc.) and architecting on career development, as well as developing personal branding, LinkedIn optimization, etc.  This is for SERIOUS job seekers who want to increase their income $50K+.  Perfect for MBA's or those in Technology industry!  
BONUS:  career coaching clients receive free files (.pdf of Interview questions, STAR format questions, Resume DIY instructions, Linkedin optimization DIY file)
All payments secured via Paypal.me/koboldt or via Zelle.  
Ready to level up your career?  Connect and send me a direct message via LinkedIn to start the process.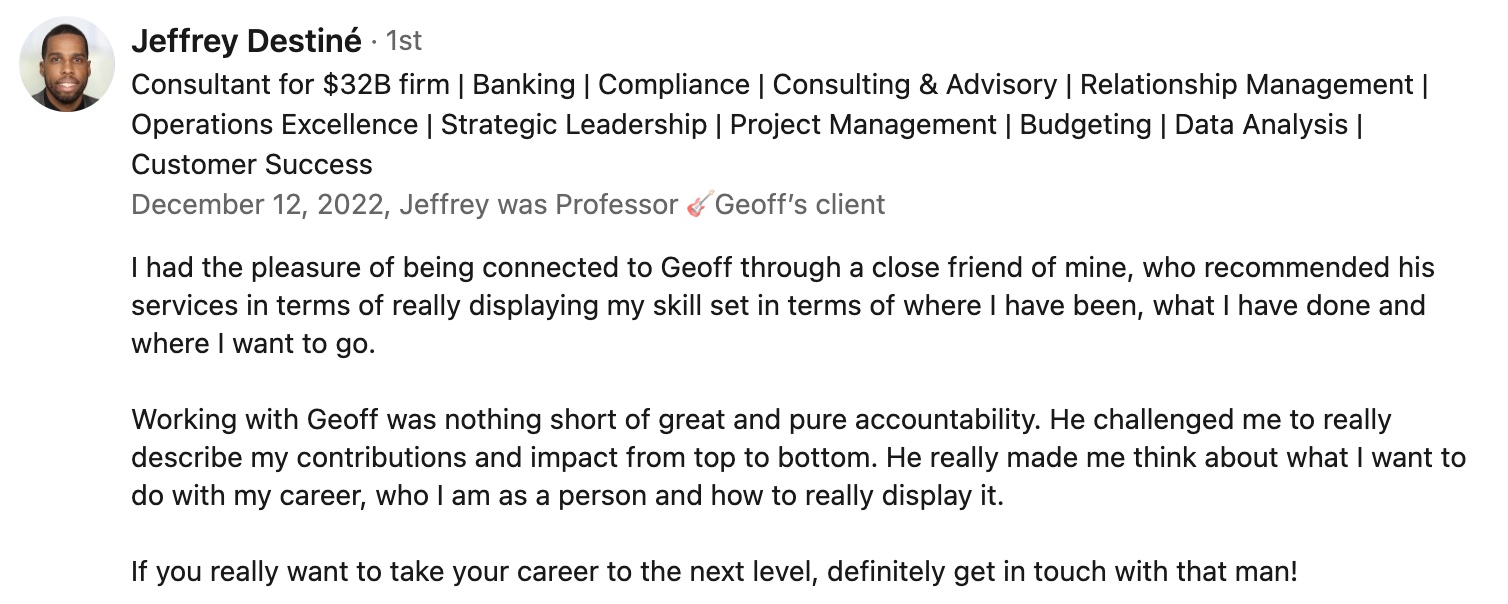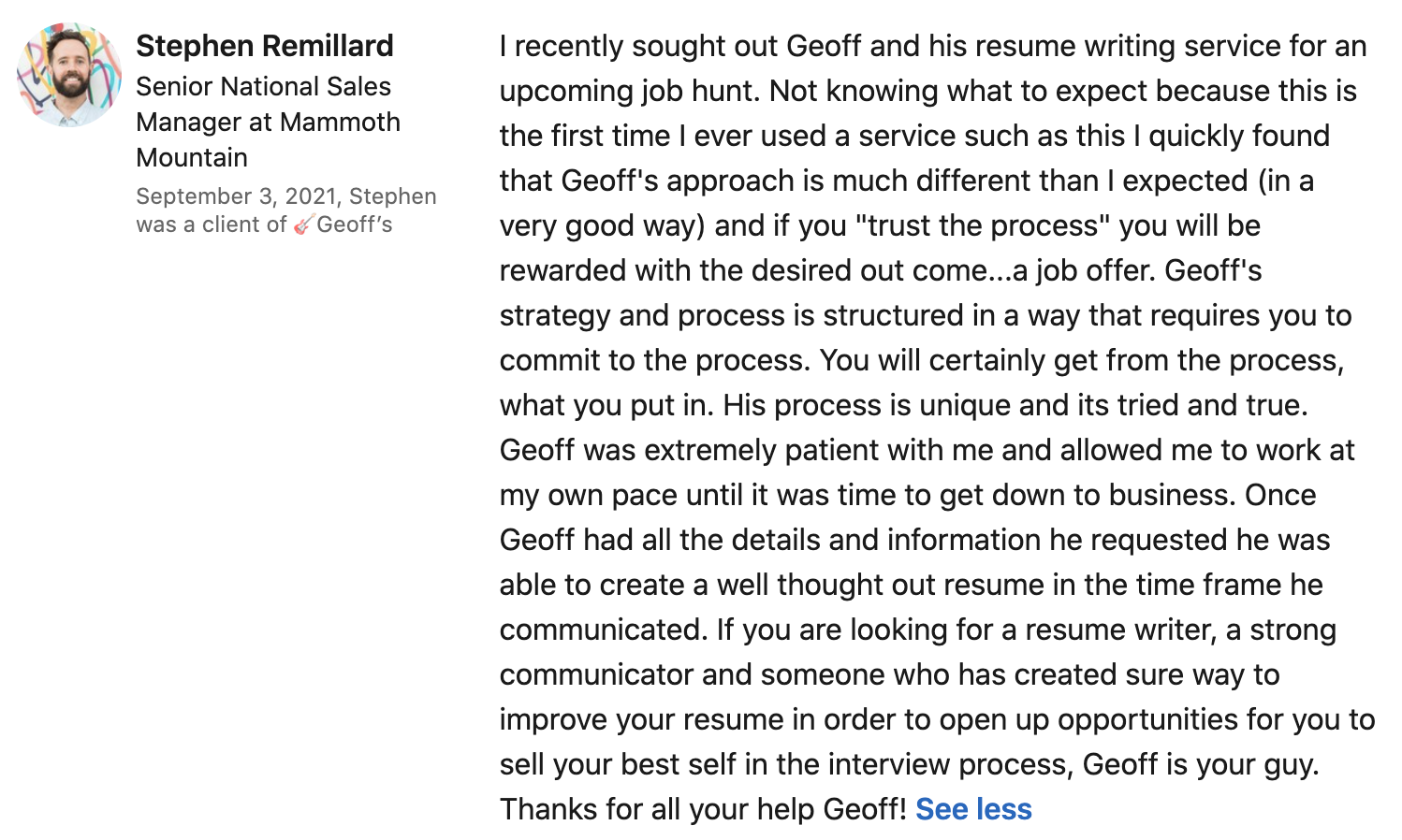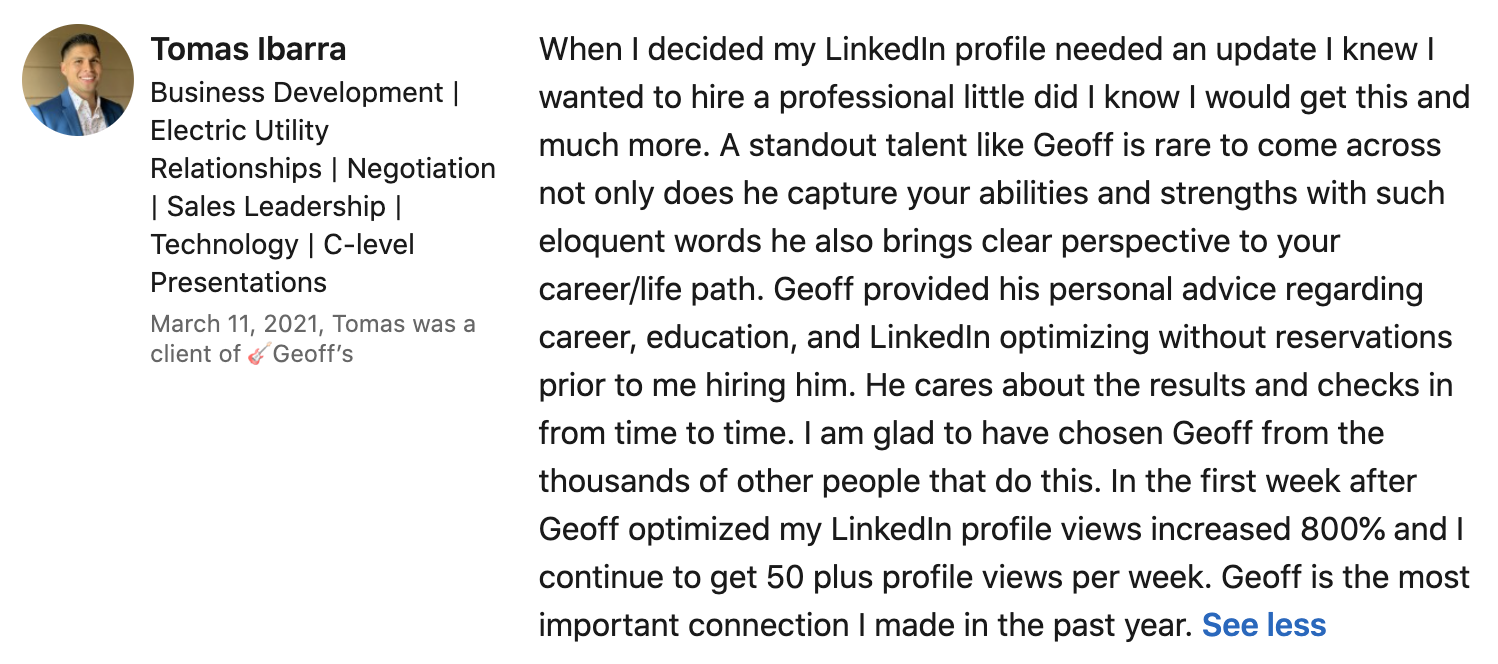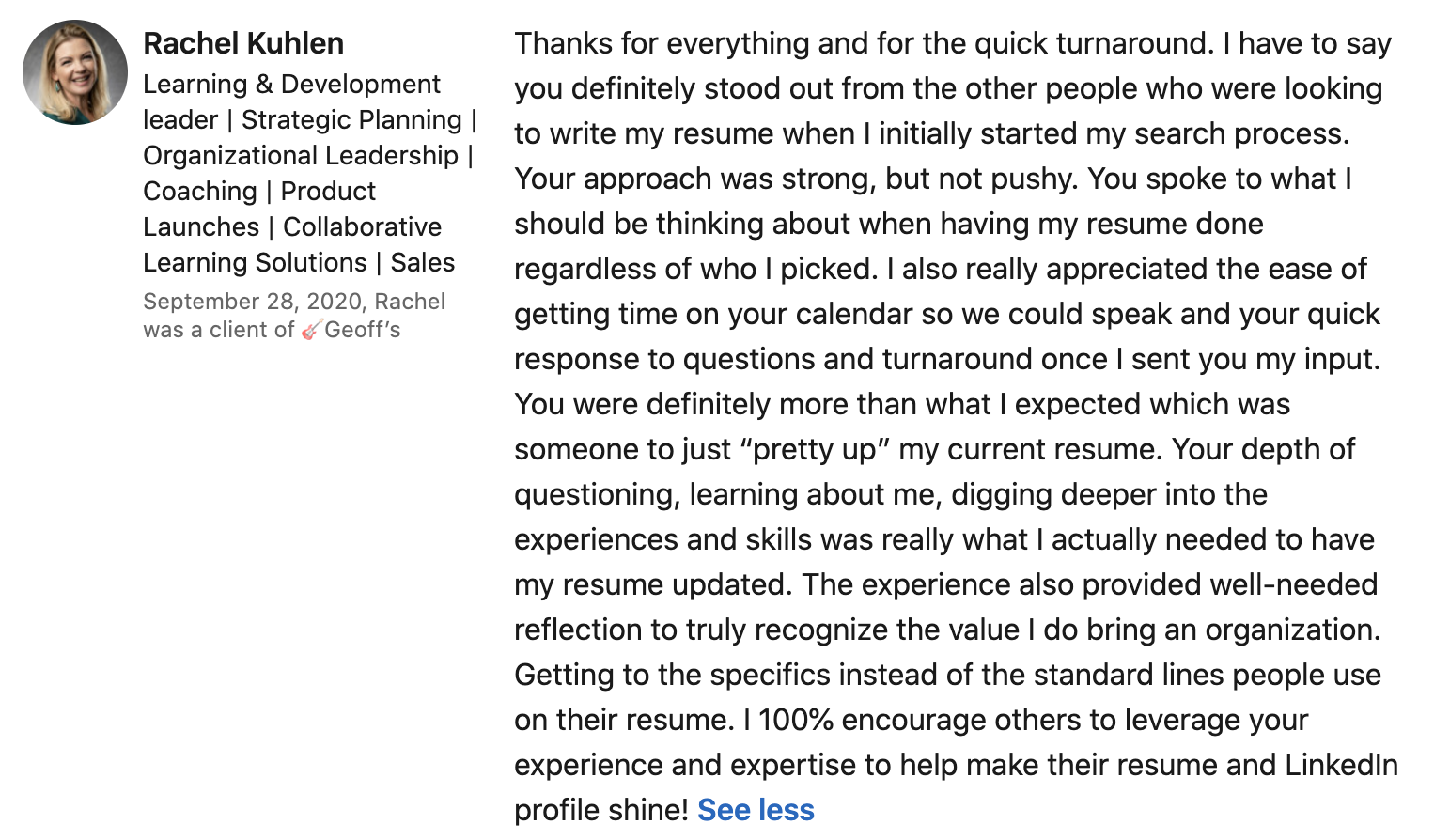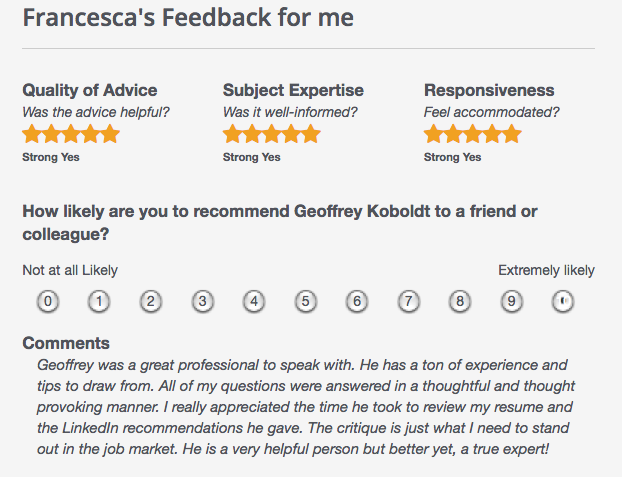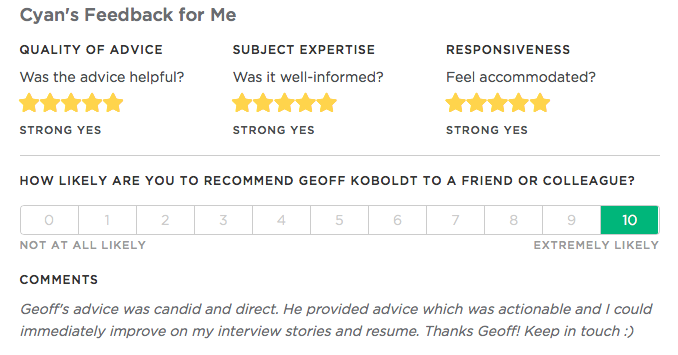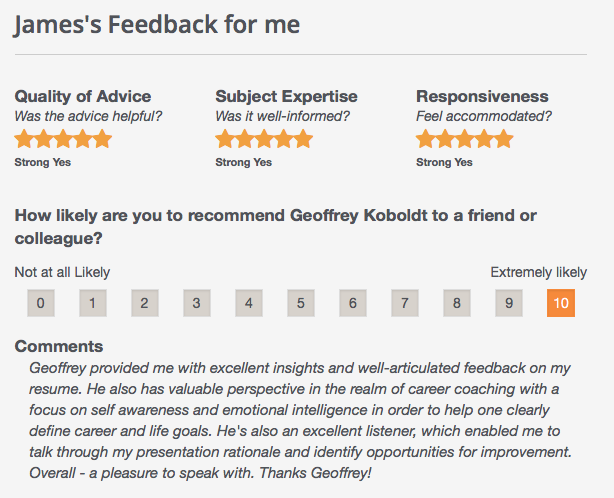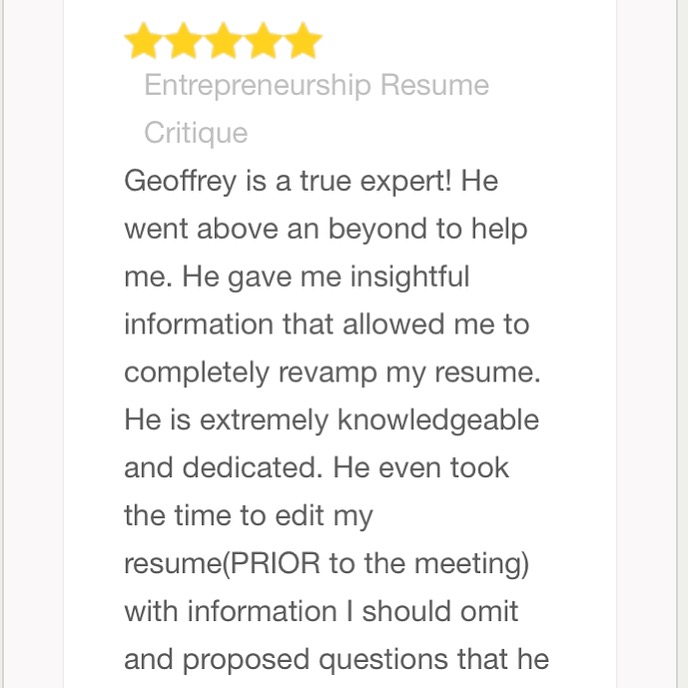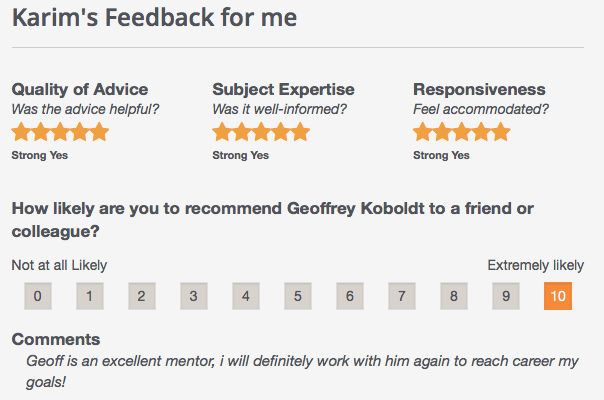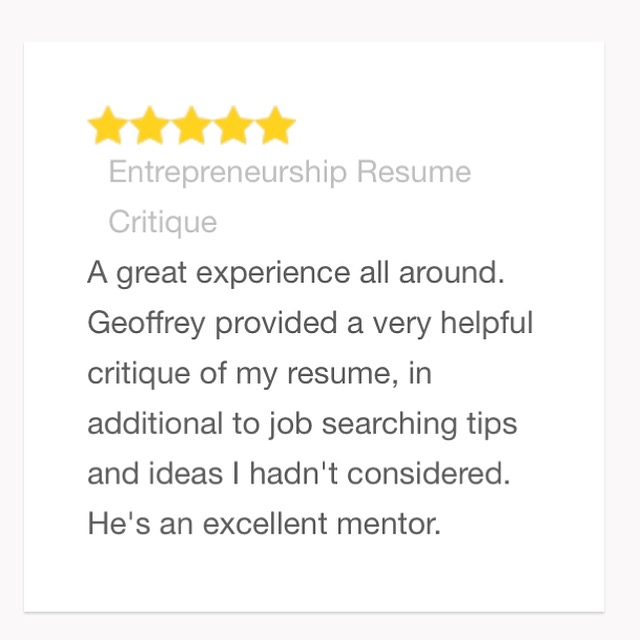 Frequently Asked Questions
What is the average turn-around time to receive my resume?
From initial start of receiving the template to receipt of a 100% audited resume is on average around 3 weeks, but a few have been rushed in as fast as 2 days.  Most people take at least 1 week on the first iteration to fill in all the details of the career worksheet template. I typically respond within 24 hours and iterate the process if more details are needed. As soon as I have enough material to work with, I typically complete them within 3 days.  What is most important is getting the most effective resume that reflects you the best, which is why my methodology takes time.  If you want a cheap, fast resume writer – I'm not your guy.
Can I get a bulk discount if I purchase resume, coaching, LinkedIn, etc?
Yes, that is an option.  Send me a direct message on LinkedIn and we can work out details to find a price that works best for you.  
Do you offer payment plans?
Yes.  I do offer payment plans if you are doing larger sessions of coaching.  Otherwise, payment is upfront for resumes, LinkedIn optimization, and Interview prep.  
Can I purchase ala carte services as needed?
Yes.  If you want something as simple as just a cover letter, we can accommodate.  Send a direct message through Linkedin on what specifically you need.
Contact me (click link below)