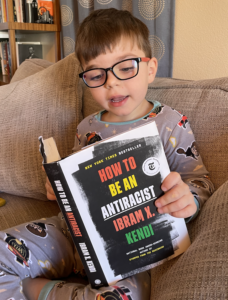 Many will post a beautiful quote on today's celebration of Dr. Martin Luther King Jr's birthday; a holiday here in the USA on 1/18/21… but many will not LIVE and breathe that message the remainder of the year.
We've reached a point in our history where you are simply on 1 side of the fence or you are not.  By saying, "Well, I'm not a racist" but then doing nothing to prevent racism, you are indeed contributing to the further validation of racism.  One must not be silent.
I recently read a phenomenal book How to be an antiracist by Ibram X. Kendi.  It opened up my eyes to my own ignorance on the subject of racism.
You see…
I have black friends – American and from Africa.
I love black music and culture.  I truly love the blues!
I don't use the n-word (unless I'm singing NWA songs).
I befriended a black preacher named Willie nearly 21 years ago who was a great inspiration to me and someone I would call my "black" dad; unfortunately he died of cancer.  I learned the most about race from him and his life's journey of living and breathing it.
I despise the treatment of black people by the police.
I strive to treat all with love and respect.
Yet, I wasn't doing anything to help END the systematic racism that exists.  Even using terminology like "white trash" is unnecessary; largely when you evaluate the economics of what created those situations for any color.
All I know is that I have to pass the baton of knowledge and goodness to my son for the children are the future.  Kids deserve better than the environment we've created for them.
WE ALL HAVE TO DO BETTER!
Today, my wife and I spent an hour talking to our son about the non-violent teachings of MLK.  We did a MLK quiz on Kahoot, designed some crafts with our son's own 'dream speech', and much more.  Even at school last week, he put together a little booklet on MLK.  It's wonderful to see that being taught in schools at such a young age.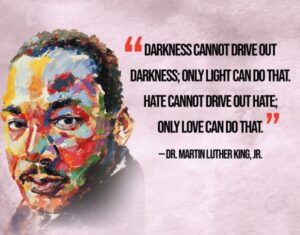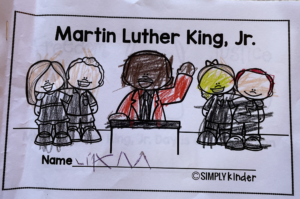 In 2018, I had the pleasure of meeting the late Congressman John Lewis.  It was one of the greatest moments of my life meeting such an icon, a hero; simply a beautiful human being.  What John endured in the 60's and largely the skull-fractured beating in Selma, Alabama is just horrific.  It reflects a dark, ugly side of America.  I encourage everyone to watch GOOD TROUBLE – a documentary on John Lewis's life.  He was arrested more than 40 times for getting in 'good trouble' and I believe another 6 times while in office.  When I met him in Atlanta, I thanked him for his service to humanity.  He said, "It's alright…. You are welcome."  The humility was astounding.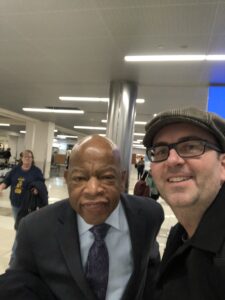 I have a dream…. that love will always be the answer.
God bless us all.